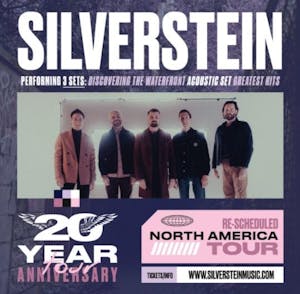 SILVERSTEIN - RESCHEDULED NORTH AMERICAN TOUR
NOVEMBER 28, 2021- SILVERSTEIN - RESCHEDULED NORTH AMERICA TOUR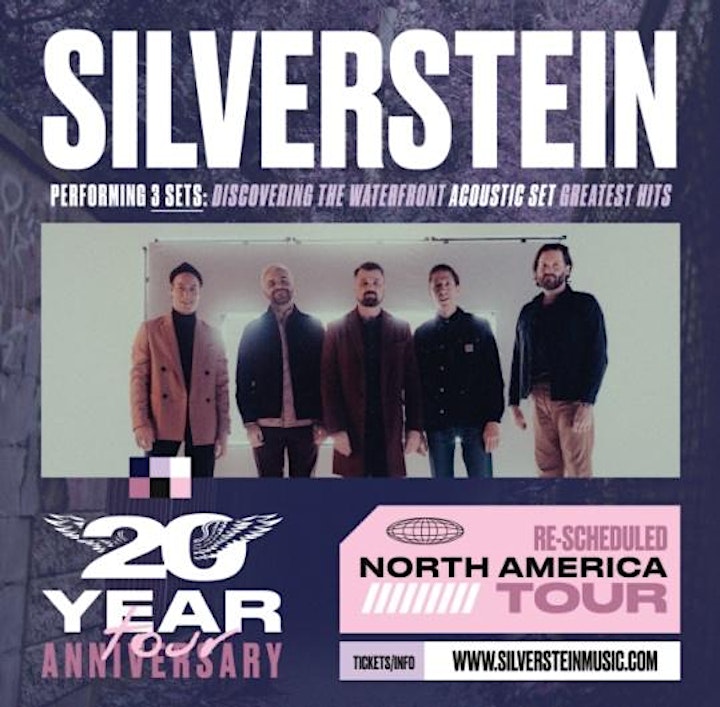 WAREHOUSE LIVE UPDATES & PRECAUTIONS
Enhanced Cleaning
Our team is cleaning and sanitizing the venue, giving extra attention to common areas, before, during, and after each event with hospital-grade disinfectants.
Physical Distancing
We've reduced capacity and adjusted seating to promote physical distancing. Seated Tickets are sold in pairs of 2, so that you and your guest are sitting comfortably at least six feet from any other seated ticketholder.
Digital Ticketing
We've moved to mostly digital ticketing for now! Fans will scan their digital ticket from their mobile device to gain entry at the door.
SILVERSTEIN
https://www.silversteinmusic.com/

https://twitter.com/silverstein

https://www.facebook.com/silversteinmusic

Longevity is a rare feat for any band, especially one rooted in a foundation of punk and hardcore. Aggressive music is often fueled by youthful fire and sustaining a career without completely abandoning that urgent sound is almost impossible for most bands. But what's possible for "most bands" has never been a concern for post-hardcore pioneers Silverstein. Throughout the course of their 20-year career, from Ontario basement shows to touring the world and selling over a million records, Silverstein has always managed to be completely comfortable in their own skin while never being afraid to challenge themselves. This perfect balance marks the band's eighth full-length, Dead Reflection, an album that proves Silverstein still has plenty of fire left.

Dead Reflection is an album that couldn't exist without everything that's come before it, a culmination not just of Silverstein's sonic growth, but also the personal journeys entangled in the band's career. Longevity was never the objective, but that drive to deliver their absolute best, no matter what the cost, is exactly why the band remains at the top of their game after almost two decades. For Silverstein there is no settling, no stopping, and they give nothing less than everything.

Venue Information:
The Ballroom at Warehouse Live
813 Saint Emanuel Street

Houston, TX, 77003