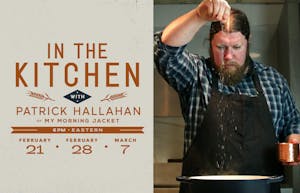 IN THE KITCHEN WITH PATRICK HALLAHAN OF MY MORNING JACKET
SUN. MARCH 7, 2021: IN THE KITCHEN WITH PATRICK HALLAHAN OF MY MORNING JACKET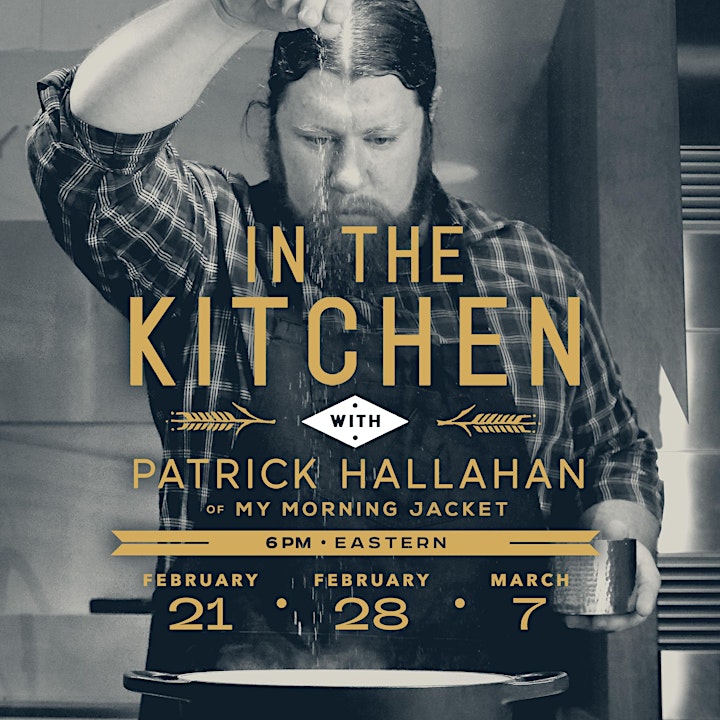 In the Kitchen with Patrick Hallahan of My Morning Jacket
March 7, 2021
5:00 PM CST / 6:00 PM EST
TICKET PRICE
$25.00
EVENT DETAILS
My Morning Jacket drummer Patrick Hallahan has announced the premiere of his one-of-a-kind new cooking show, In The Kitchen with Patrick Hallahan. Hosted by Seated.com, the three-episode series will see the veteran musician, passionate home chef, and longtime Louisville, KY restaurateur celebrating his unbridled enthusiasm for food with unique recipes, full demonstrations, stories, and surprise guest visits from VHS or Beta's Craig Pfunder, My Morning Jacket bassist Tom Blankenship, and his own beloved daughter. In The Kitchen with Patrick Hallahan Sunday, March 7. Tickets are available now at an individual episode price of $25.00;
"For as long as I can remember, cooking and making music have been hand in hand in how I express myself," says Hallahan. "I've had the honor of playing music for people all of my adult life. Now, through taping cooking segments, it's really nice to be able to do the same with food."
Episode 3:
Reverse Sear Ribeye, with Potato Pave and Creamed Spinach
Plus: Crispy Risotto Cake
Each episode of In The Kitchen with Patrick Hallahan will see Hallahan sharing great recipes that he cooks for his family – delicious, easy-to-prepare meals inspired by traditional Southeast comfort food, from spatchcocked chicken and roasted vegetables, to grits and much more. All tickets for In The Kitchen will include the full recipe, shopping lists, and an exclusive playlist, showcasing his personal soundtrack for culinary adventure.
Best known for his two decades behind the drum kit with My Morning Jacket, Hallahan co-founded Louisville, KY's renowned Butchertown Grocery, named by USA Today readers as one of the best new restaurants in the country for its refined food, chef-selected, single-barrel bourbons, and historic location.
Connect with Patrick Hallahan: