The Road to SxSW...
Woe, Is Me
with

Crown the Empire

•

Dayshell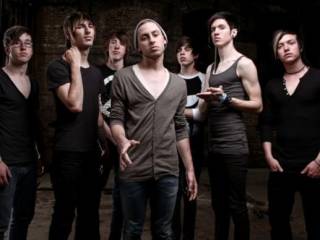 Woe, Is Me Biography
Woe, Is Me are a metalcore band formed in Atlanta, GA in 2009. The band is currently signed to Rise Records and its subsidiary, Velocity Records. Their debut full-length album, Numbers, was released on August 31, 2010 and charted at #16 on Billboard's Top Heatseekers.
The original lineup consisted of Austin Thornton, Kevin Hanson, and Tim Sherrill with Cory Ferris and Ben Ferris. These members recruited vocalists Michael Bohn and Tyler Carter for unclean and clean vocals, respectively.
The band recorded a three-song demo with producer Cameron Mizell containing the songs "Hell, Or High Water," "I.," and "If Not, for Ourselves," which were uploaded to their MySpace profile. They also recorded and released a cover of "TiK ToK." The Artery Foundation took notice and Rise/Velocity Records signed the band before they even played their first show. They recorded their album during the same month that they were signed.
The band's first tour was on the Pyknic pArtery Tour in the summer of 2010, headlined by Drop Dead, Gorgeous and shared with From First To Last, Attila, Sleeping with Sirens, Abandon All Ships, For All Those Sleeping, and Scarlett O'Hara.
Tyler Carter's soul-influenced clean vocals has garnered him comparisons to Jonny Craig, who also provided guest vocals on their album. The band went on a Canadian tour supporting Abandon All Ships in October of 2010 as well as the Average Guys With Exceptional Hair Tour across America, presented by MerchNow.com, in November with A Skylit Drive, Motionless In White, Scarlett O'Hara, and For All Those Sleeping.
Crown the Empire Biography
We are Crown The Empire from Dallas, Texas. This band was put together by Brandon, Austin, and Hayden. We are influenced by such bands as Enter Shikari, A Day To Remember, Asking Alexandria, Chiodos, and We Came As Romans.
Dayshell Biography
The new project from former Of Mice & Men member Shayley Dayshell Bourget, Raul Martinez & former Covette member Jordan Wooley.